Encontramos 3 artículos ofrecidos por vendedores internacionales de eBay
About Samsung Galaxy TabPro S
Showing slide {CURRENT_SLIDE} of {TOTAL_SLIDES}
Powerful PC performance.

Bringing PC performance to a tablet, the Galaxy TabPro S runs Windows 10, the best yet from Microsoft. It combines an Intel Core M processor with 4 GB RAM + 128 GB solid-state drive so you'll have more power to work and more space to store.

Entertainment ready.

Take your entertainment to the next level on your tablet's vibrant screen. From games and social media to emails and presentations, everything looks its best thanks to the details only a Samsung Super AMOLED display can bring.

Productivity anywhere.

Working from anywhere is easier than ever. Bundled with a full-size, detachable keyboard and integrated touchpad, you can do just about everything you need to do on your tablet, from polishing a presentation to writing a long email.

More power, more doing.

With fast charging, get up to 10.5 hours on a single charge so you can binge-watch your favorite show or power through a presentation.
eBay has provided more information about this product above and is not affiliated with or endorsed by Samsung.
Price Trends
Samsung Galaxy TabPro S - Price Used
Used Price*
from $208 to $299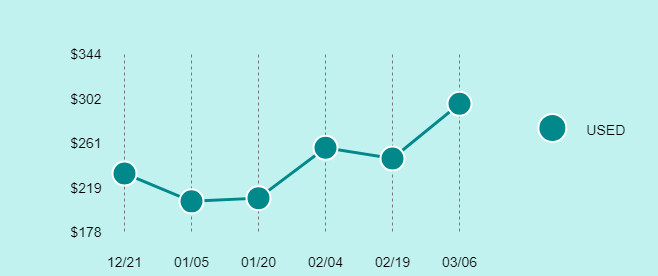 *The average sold price is calculated based on "Buy It Now" items sold within the 90 day period described above (excluding shipping and handling). Each interval represents a 15 day period. There is no guarantee that items will always be listed at a price within the provided range.
Compare Similar Models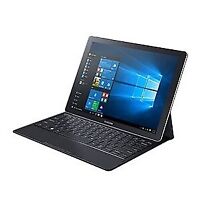 Samsung Galaxy TabPro S
Operating System
Windows 10
Showing slide {CURRENT_SLIDE} of {TOTAL_SLIDES}
Great value for money

This discontinued product by Samsung is actually awesome. It runs windows pro really smooth! Works great with its pen. The battery lasts for a bit more than 7 hours of medium usage. The screen is amazing!

Verified purchase: Yes

Fantastic tablet

The tablet I received in incredible timing. This is the first new computer/tablet I've purchased since 2012. I did a lot of research prior to the purchase, I was looking for something mobile to utilize at work and home. This tablet is exactly what I was looking for. The keyboard is a little difficult to use but much better then an on screen keyboard or stylus pen.

Verified purchase: Yes

Great tablet for the price!

I wanted a tablet that could run Windows for travel and the Tab Pro S works perfectly for my needs & budget., The Galaxy Tab Pro S has a great screen, its lightweight, it runs Windows, great for browsing and watching videos, decent sound qualtiy, battery life is very good, super quiet, and the price was right., It only has one USB C outlet, which is also the charging port. This can be inconvenient., My unit came without the keyboard/cover - It was hard finding the correct replacement., Overall, I am very satisfied with the product. It runs all the software I need, and was a big upgrade from my 3 yr old laptop.

Verified purchase: Yes

a great windows tablet!

very light tablet, great battery life, fantastic screen!!!. windows runs very good with the hardware for basic internet, pics and video watching. downside no sd card support but easily fix with an adapter.

Verified purchase: Yes

Slim, light and everything you need!

I looked at the Surface and a couple of other 12" tablets. I needed something with a key board, long life battery but I didnt want to pay bug bucks. I like the Samsung Brand (I have the SS Note phone) and its reliability. This tablet is thin, light and the standard size keyboard is nice. I like the magnetic 'snap to' docking to the keyboard; it works well on a hard surface, but not so well on my lap., I use spreadsheets and at times the tablet seems to lag. I dont know if this is typical of other tablet., The only thing I miss is a USB port, I had to spent $59 for a specialized multi-port so I can use an exterior drive. But I did save about $300 ( Microsoft Surface).

Verified purchase: Yes