Diapositiva {CURRENT_SLIDE} de {TOTAL_SLIDES} - Buscar por Red
1 - 48 de 1.133 resultados
About Samsung Galaxy S6
Showing slide {CURRENT_SLIDE} of {TOTAL_SLIDES}
Exquisitely crafted, captivatingly brilliant.

Inspired by the works of glassblowers and artisan metalsmiths, the Samsung Galaxy S6 represents a seamless fusion of glass and metal. Make a statement with its radiant glass surfaces that reflect a wide spectrum of dazzling colors.

Improved aperture, clearer pictures.

Both of the Samsung Galaxy S6's front and rear cameras feature higher resolution and F1.9 aperture, allowing you to take clearer images wherever you are. Simply press the home button twice to go straight into camera mode.

Ultra-fast charging.

The Samsung Galaxy S6's lightning-fast charging speed is up to 1.5 times faster than previous models. Wireless charging compatibility means you can simply pop the Samsung Galaxy S6 onto a compatible charging pad for a wire-free recharge.

Dazzling display.

Equipped with a 5.1 inch Quad HD (2560 by 1440) Super AMOLED display, the Samsung Galaxy S6 provides an impeccably sharp viewing experience. Featuring an adaptive display, it provides unbeatable clarity both indoors and outside.
eBay has provided more information about this product above and is not affiliated with or endorsed by Samsung.
Price Trends
Samsung Galaxy S6 - Price New and Used
New Price*
from $152 to $233
Used Price*
from $76 to $99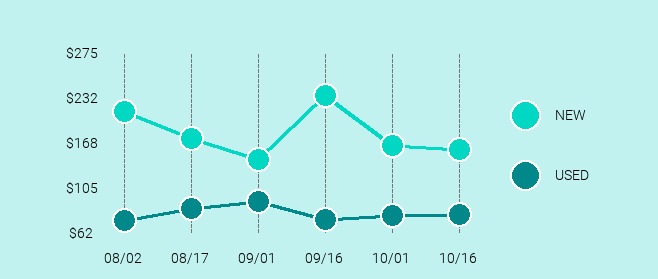 *The average sold price is calculated based on "Buy It Now" items sold within the 90 day period described above (excluding shipping and handling). Each interval represents a 15 day period. There is no guarantee that items will always be listed at a price within the provided range.
Compare Similar Models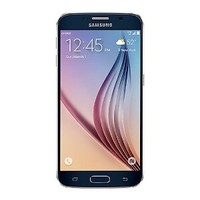 Samsung Galaxy S6
Display Resolution
1440x2560
Operating System
Android 5.0.2 Lollipop, upgradeable to 7.0 Nougat
Camera (Rear/Front)
16/5 MP
Dimensions
5.65 x 2.78 x 0.27 inches
Internal Memory
32/64/128 GB
Processor
Octa-core 2.1 GHz
Battery Capacity
Up to 17 hours 3G talk time (2550 mAh)
Showing slide {CURRENT_SLIDE} of {TOTAL_SLIDES}
Top 5 High ratings
Top 3 Low ratings
By far the best of the galaxy family!

I love all the galaxy phones and this is the best so far. I went from the S5 to the S6 and I like it better. The only thing I don't care for is there is so many added features to the phone that drain the battery. A lot of the google products I don't use. There is apps that are duplicated because of this. Samsung has it's own apps and google have the same apps. I'm older and don't care for all the apps that maybe the younger generations do like. But all in all I like the camera better, the ease of use between apps. One downside for me was getting used to to adding contacts from the phone log. That did change. I used to add a contact from my call log, now S6 doesn't. That may have something to do with T-Mobile Name ID. Not sure. There are a few more things but can't think of them. Whatever I don't like about the phone is not enough that I would change products. I buy new older models because I like having no contracts with T-Mobile and to get the latest model I understand I would have to sign a new contract or pay through the nose for a new phone. That is my biggest problem with apple products. I refuse to pay over 800.00 for a phone. I am happy with galaxy, I've had S3, S4, S5 and now S6. I love them! I am also a loyal Customer to T-Mobile....I've been with them for about 14 years and if it ain't broke don't fix it. I've been happy with them so why change.

Verified purchase: Yes

Switched to the Dark Side

I'd like to start off by saying before this phone, I was an Apple Fan boy. I loved iPhones and owned them exclusively since touchscreen smart phones have been around. I have tried various Android phones, but I never kept one for longer than a month or so. This phone has made me have a change of heart. I absolutely love it!, , The screen is absolutely gorgeous. Statistically, this phone has a better screen than the new iPhone X that JUST came out. I love the size of the phone as a whole as well since I'm not too akin to "phablets". This is a three year old phone and it still has so much power and handles everything like a champ!, , This phone has also made me love Android. The customization and tricks that I never knew I was missing out on with ios devices. It's December right now, so I have a background of falling snow. It's beautiful and you can't get that on iPhones! The phone handles any live wallpaper I throw at it so well! You would think with all the third party apps and different developers that it might have trouble with some, but it simply doesn't., , My one complaint, and it's an obvious one if you know anything about Samsung phones, is the battery life. It is atrocious! Even in standby the battery seems to drain so quickly. This is the one thing that Apple seemed to have a lot better control over than Samsung. One good thing is it charges extremely fast. It also supports wireless charging, so you can drop it on the charger, do some tasks around the house, and it'll be filled up and ready to go for a while longer., , Overall, this is probably my favorite phone I've ever owned. It's definitely the most fun I've ever had with a phone. Just getting to play with themes, widgets, live wallpapers, font style, and so much more. It's completely customizable to your liking. Anything you choose to put on the screen will look stunning thanks to how beautiful and vibrant it is. There's even a setting you can change to make the screen even more saturated, making the colors brighter and pop more., , No matter what you decide to do, this is definitely a phone I would recommend. It's a fantastic buy since it cost about $120 for me, and it's still so relevant for being three years old. I think it's a steal for anyone looking to upgrade without breaking the bank. You won't be disappointed.

Verified purchase: Yes

Never Get the latest Version

In technology purchasing the latest and greatest products offer result in disappointment. In the old day we would always wait for the next version because invariably the first try would be buggy and cause problems. The same applies to cell phones. Samsung and Apple are bitter rivals, each offers different but functionally quite similar. I wanted my GSM LG Nexus was showing its age and time for an upgrade. My interest in a cell is basically the functionally of a computer and a basic telephone, and offering good battery life. Even though earlier versions of the Samsung Galaxy S6 had some battery problems, I waited and got a later version at a remarkable price. Of course there is no alternative to Ebay. The Samsung Edge S6 has also a pseudo dual processor that greatly increases the speed of all functions. Battery life for all cells is overstated. In the real world if you have too many apps open the battery may not last half a day. So ensure that you keep open only apps you really need. I suggest if someone is looking for a good GSM cell than you can't go wrong with the Samsung Galaxy S6.The price is remarkable considering the specifications of the device.

Verified purchase: Yes

Many Bells and Whisltes

Having owned an iPhone for 5 or so years I decided to try the Galaxy 6S. I am not going to bash the battery because everyone else has but I will say that there is great info out there to optimize the staying power of the battery. That information really helps., The Galaxy 6S can be somewhat used by iPhone users right away because of the similar type of interface. But there is just so much on the phone and the settings are very individualized. One item that I was impressed with is the picture stabilization. If your hands shake and you get a blurry picture from older phones or cameras, this phone's stabilization setting will certainly help freeze the picture or steady the video., Another interesting aspect is that for some unknown reason some of the help from blogs and videos for the S6 videos s do not track with the newer S6. Getting onto our Microsoft Exchange server was straight forward and sync'd right up. Another plus is that I can use my 7 year old computer to just drag and drop music, photos and ringtones without using any special program for management., I have had mine phone for about a week still not learned everything about it. One item that I will do is start cleaning up all of the bloat ware to better streamline access to the apps I want. Overall, I am pleased with my decision and recommend this phone., 6Stringer in College Station, Texas

Verified purchase: Yes

Excellent overall with a few quirks

I was going from a Gen 1 Moto X to the Galaxy S6. I miss a great deal of the simplicity and helpfulness of the Moto software, like the ability to talk to the phone even when it sleeps, near-stock Android, ability to text from my computer, and other Moto Assist features. However, the Moto X was never as fast as the Galaxy S6,, , Camera, The S6 camera is hands down the best on a smartphone today. Great colors, quick response, easy focusing and exposure tools, excellent sharpness, tons of useful features for amateurs to pros. For the first time, I don't feel bad leaving my point and shoot at home., , Aesthetics, The S6 looks nice, though the glass back makes it EXTREMELY slippery. I've never had a case before yet am likely to get one for the S6., , Screen, The AMOLED screen is gorgeous. No one should use an LED screen. No one., , Battery, The battery is so-so. I can get through a mild usage day without charging, but not a heavy use day. Luckily, the quick charger lives up to its name, taking a little over an hour to go from nothing to a full charge., , Other, The fingerprint sensor and heartbeat sensor are middling. They're the kind of features I wish Samsung would remove to reduce the cost of the phone. I do like that they kept an IR blaster so I can use the phone as a remote. It's a cheap, useful option more manufacturers should consider.

Verified purchase: Yes