Buscar por Código de región
Diapositiva {CURRENT_SLIDE} de {TOTAL_SLIDES} - Buscar por Código de región
1 - 48 de 1.441 resultados
About Nintendo Switch
Showing slide {CURRENT_SLIDE} of {TOTAL_SLIDES}
Play games with friends in your living room or on the go.

By simply lifting Nintendo Switch from the dock, the system will instantly transition to portable mode.

Includes all of the extras you need to get started.

This bundle includes the Nintendo Switch console and Nintendo Switch dock in black, and left and right Joy‑Con controllers in a contrasting gray.

Travel with it.

Pack it in your backpack, the Switch only weighs 10.5 oz.
eBay has provided more information about this product above and is not affiliated with or endorsed by Nintendo.
Price Trends
Nintendo Switch - Price New and Used
New Price*
from $182 to $284
Used Price*
from $261 to $287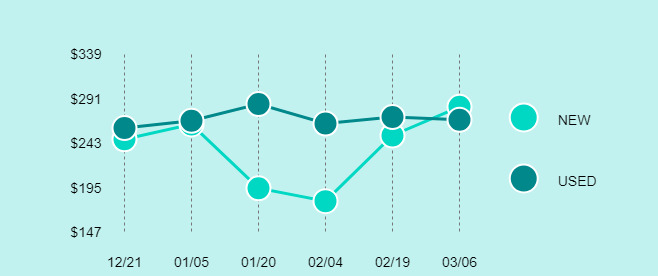 *The average sold price is calculated based on "Buy It Now" items sold within the 90 day period described above (excluding shipping and handling). Each interval represents a 15 day period. There is no guarantee that items will always be listed at a price within the provided range.
Compare Similar Models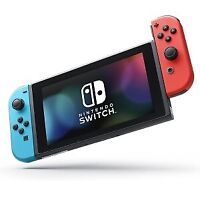 Nintendo Switch
Processor
Octa-Core 1.02 GHz
Maximum Games Resolution
1080p
Optical Drive
Cartridge Only
Backwards Compatibility
No
Ports
HDMI, USB 3.0, USB 2.0
Showing slide {CURRENT_SLIDE} of {TOTAL_SLIDES}
Top 5 High ratings
Top 5 Low ratings
The Nintendo Switch

Wow. Honestly I'm blown away by this thing. This is what I thought the Wii U was, but better. Nintendo consoles may not be the most powerful, but they are stunning, quality pieces of technology that can provide years of fun. The best part about Nintendo consoles by far is their games. They're the only company that produces Mario, Pokemon, and Zelda games. This console is portable, and can some games I've played on it look better than the ones I play on my PlayStation 4 and PC. The design makes the device look large, but it actually fits my hands quite well and doesn't feel big and bulky. It's certainly not that heavy either. Also the screen is a touch screen, which I didn't actually know when I bought it. Doesn't really do very much for me but it's there. The battery life is pretty good. I think the most odd thing about the switch is that you can't turn it off. There's sleep mode, but as long as the switch has some battery life left, it won't actually shut down completely (maybe they're spying on us). The joycons are surprisingly good to say the least. I wasn't expecting much from them but it's pretty cool how you can just take them off the console and give one to a friend or family member and play something together. I do not own a pro controller yet, but I think I'll prefer that over sliding both joycons into the little controller module type thing. I think the only bad thing about the switch is that its gets really loud and hot when docked. I was playing breath of the wild only to stop when I noticed how loud the fan was going inside the console, which had never happened when I was playing the game un-docked. Either way, the switch is great, and I definitely recommend it to anyone who is looking for a portable console or just loves Nintendo games.

Verified purchase: Yes

The Switch offers freedom to console gaming!

I want to start this review off with the only Con to this product, and it could be a turning point for some people, but afterwards I have many good things to say. Unlike a PS4, or an xBox One, this isn't a console you buy for the games, unless you're specifically interested in playing Mario or Zelda titles. What do I mean by that? The selection isn't as wide, nor recent, as the other consoles. Many of the big named games are simply older titles ported over, or indie games. And, this is the case because the the switch does not have the hardware power of the bigger consoles. A lot of games are coming to the Switch this year thanks to companies realizing that the Switch is big and here to stay, but the list still has to grow. That out of the way, let me mention the alternative point. This is a console you buy FOR the console. This has been the most enjoyable console, and playing experience, my wife and I have ever purchased. The very first day we purchased the console I watched her play Zelda Breath of the Wild, and then at some point I had wanted to use the living room TV, so she popped the console out from the dock and continued playing on the couch beside me until I was done and then she slid it right back into the television seamlessly. Also, my wife is notorious for coming to bed with me even if she isn't ready to go to sleep herself, and she'll lay beside me using her phone. And, as I expected she would, she did the same with the Switch, bringing it to bed and playing with it rather than her phone. The ability to use the console as a tablet and play on the go at first hadn't appealed to me because my wife and I are homebodies. If we go out of the home we're doing it for a task and then we come straight back home, and have no reason to sit around playing on a tablet. But, sometimes you don't realize how useful freedom of movement is until you have it, and realize you're not landlocked to any location. Not to mention, because the console is completely inside of the tablet we realized later that we could buy multiple docks and place them at any other TV or computer monitor in the house allowing seamless transition to different room monitors. And, don't even get me started with when we took the two halves of the controller and played coop games together. That was some of the silliest fun of the console. The fun of the switch is in the console itself. Just as the Nintendo Wii, and the Nintendo 3DS, the question in buying the console isn't "What games do you want to play?" but instead "How do you want to play your games?"

Verified purchase: Yes

No looking back from hereon.

For someone like me who spends only a few hours gaming every week, the Nintendo Switch is perfect. More so, because it is exactly the kind of platform for people that do not require hours of competitive online play or hard core gaming sessions to satiate their gaming appetite. Don't get me wrong here. The Nintendo Switch can very well cater to hard core gamer, just that Nintendo has targeted a wider set of audience (casual gamer) with a diverse library of games and portable design than Sony or Microsoft can ever hope to do. Uniqueness and portability definitely have a strong appeal; it is line-up of the games that impresses even further. Zelda, for example, perfectly complements a quite weekend with a much needed dose of relaxation. I have played it for 185 hours, just completed about 35% of the game, not conquered a single titan and still going with as much interest as when I started it. That is kind of pace I set, getting lost in the world while wandering at a leisurely pace and admiring the perfectly crafted landscapes, not worrying about quests, solving puzzles when I choose, making my own choices on how to tackle foe. The list is just endless. I don't think there is any other game that achieves this feat or will in the near future. Zelda is the only game I own since I brought the Switch 8 months ago; its all that's needed till I finish it, maybe in the next 6 to 8 months. What's next, maybe Super Mario Odessey. I could add a Kirby game or a Mario Aces tennis in between. The options are just endless and the library keeps growing with great titles. I am not a Nintendo fan boy and never was. Nintendo has been able to cater to my needs at the right time with the kind of games that perfectly suit my lifestyle and tastes, with option to take them anywhere any time. My PS4 is taking dust since Nintendo came. I think its a good bye and farewell to PS4 and all the greatness its advanced brethren can offer by scaling to 4k visuals. Nintendo delivered and that's just it.

Verified purchase: Yes

A Great New Gaming Console Concept

When the Nintendo Switch first came out, I was intrigued by the new concept Nintendo had just introduced. I didn't jump at the chance to buy one right away, but rather, decided to wait a little bit to see if my simmering excitement over the product was warranted. After almost a year of seeing many positive reviews and glowing praise over the new console, I decided to make the purchase!, , I believe Nintendo has a winner here. There are so many ways to use the Switch, it's not surprising that so many people are buying this thing up! You can play it docked and displayed on the television set like a normal gaming console, you can undock it and play it in handheld mode, and you can also play it in "table-top" mode using its kickstand or an aftermarket stand! The entire system is travel-friendly and ready to play anywhere you go! Additionally, there are many aftermarket accessories to personalize your Switch and/or make it more functional., , The best thing I like about the Nintendo Switch (and something that I've always liked about Nintendo in general) is that the system and many of its games are family friendly! It's a great console to own if you want to have fun with family and friends! With everything else said about the new console, what more could you want in a gaming console other than that it can bring people together for fun, laughter, and a bunch of great memories!

Verified purchase: Yes

Nintendo is great again.

How can I put This? The device exceeded all of my expectations. It's so simple. So beautiful, so fun. This is as special as the experience of playing the super Nintendo and the Nintendo 64 for the first time, I always dreamed of the day a company would make a controller that you can take and play wherever you go. The wii u is what I had in mind but it's launch and run were a disaster in every single way. And the Wii as fun as it was and unique as it was fell far short of the competition, which had allowed Microsoft and Sony to take over the market and to an extent a generation. This Nintendo switch is a breakthrough revolutionary product in video gaming and there is literally nothing like it. The main complaint people have about the system is the game selection but I actually prefer these artists taking their time and making these games as good as they can be. The switch is a baby but will be able to obtain software updates and new content that will make your money well worth it. I cannot put into words how wonderful this video game system . It is to the video game world what the iPhone is to the cell phone world, and I know the children playing today will have an even greater experience than my did with previous Nintendo console. This is Nintendo's best ever system period. And i truly fell in love the very moment I held it in my hands. My suggestion is buy the neon red and blue version because it's just so much cooler than a plain boring grey one. Get a protective carrying case if you plan to go mobile. And just go get one immediately period. This is one spectacular device. And Xbox and PlayStation are now #2 & #3 in the video game world. Nintendo has once again re defined and revolutionized the possibilities of video gaming, and there is no question who has now taken the lead in breakthrough video gaming experience.

Verified purchase: Yes