Buscar por Capacidad de almacenamiento
About Microsoft Surface Pro 4
Showing slide {CURRENT_SLIDE} of {TOTAL_SLIDES}
The versatility of a laptop and tablet.

Surface Pro 4 handles tough tasks while being lighter than ever at 1.73 pounds. The 12.3-inch PixelSense display is high contrast and low glare. Go from laptop to tablet with the Kickstand and keyboard. Jot down notes with Surface Pen.

Exceptional performance.

The 6th Gen Intel Core m3, i5, and i7 processors inside Surface Pro 4 are more powerful, quieter, run cooler, and are more efficient than before, lasting up to 9 hours without needing a charge.

Runs Windows and Office perfectly.

Surface Pro 4 runs Windows 10 Pro, as well as all your professional-grade software with no compromises, including Microsoft Office. Write directly on webpages with Surface Pen in the Microsoft Edge browser and share your notes easily.

Microsoft technology.

Writing with Surface Pen writes like a ballpoint pen on paper. Use Pen to open a OneNote or to activate Cortana, your digital assistant. With Windows Hello, Surface Pro 4 knows you're you, and will sign you in with no password required.
eBay has provided more information about this product above and is not affiliated with or endorsed by Microsoft.
Price Trends
Microsoft Surface Pro 4 - Price New and Used
New Price*
from $474 to $778
Used Price*
from $343 to $464
*The average sold price is calculated based on "Buy It Now" items sold within the 90 day period described above (excluding shipping and handling). Each interval represents a 15 day period. There is no guarantee that items will always be listed at a price within the provided range.
Compare Similar Models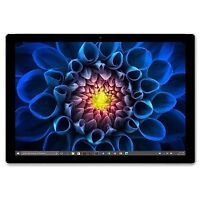 Microsoft Surface Pro 4
Internal Storage
128 GB-1TB
Processor
2.4 GHz dual-core
Operating System
Windows 10
Showing slide {CURRENT_SLIDE} of {TOTAL_SLIDES}
Top 5 High ratings
Top 1 Low rating
Not the same as a Wacom Cintique, still pretty nice to draw on

I personally wanted a Surface Pro so I could draw on it. Unfortunately, I was very disappointed to find out that this surface pro does not support Paint Tool Sai- an art program used by a vast number of artist. It does work, but the pressure sensitivity does not work and that makes the drawing program useless. The drawing programs that do work (and are not limited to): FireAlpaca, Manga Studios, Photoshop and MediBang paint pro., , , The pen is quite nice, but it does have its cons. For example, sometimes you have to pair it again. Another inconvenience I've experienced is that whenever I flip it to the other end (the eraser end), it does erase- but if I change the brush size of the eraser, it changes the brush size of my brush that I am drawing with. The pen can't right click which is also pretty annoying since I have to actually use my mouse or trackpad just to swatch from the canvas I'm using. If you're a digital painter or just a fan of using multiple colors, it gets old really fast., , Aside from the huge disappointment of being unable to use Paint Tool Sai, the Surface pro is something I'd recommend to anyone. It's a very nice computer. It charges fast, is portable, doesn't require a keyboard to type, is portable and lightweight. As for the keyboard, it's very nice to use. It's magnetic so there's no way you're gonna break it when you put it into the port it goes into. The charger is also magnetic. I have to say that the keyboard is pretty annoying when you're trying to draw on the screen but it's something you get used to. While handy when drawing, you don't really have to use or even buy the keyboard., , The screen itself is nice to draw on and the stand is amazing. It doesn't even budge on more slippery surfaces. It bends very far and it's great for adjusting the screen to the angle you enjoy drawing in., , , The surface pro only has one USB, but if you want to plug in multiple things like a drawing tablet, mouse and phone charger you can get one of those USB ports with multiple ports on it that you plug into the computer itself., , , Regardless of all those inconveniences, I do love the Surface Pro. It's fun to use, the screen is smooth and nice to draw on, the keyboard sounds nice and it runs smoothly aside from one odd noise it makes when cooling down or running heavy programs., , Thank you mom and dad for my new Surface Pro! I love it 3

Verified purchase: Yes

First Surface product

This was my first Surface product. I wanted to get this to work alongside and take some of the work off my current laptop which is from like 2011... I initially liked the Pro 4, but it seemed like too much for me and my needs. All I needed was a computer/tablet with good battery life that didn't have to be the fastest, but I didn't want anything slow. I happened to find one at a really good price, so I picked it up. I've had this for just about 2 weeks, and I'm absolutely in love with it. I've taken this thing everywhere. The screen size is perfect at 12 inches, which means the keyboard is an adequate size, and that's important to me personally because I have large hands. The screen is very responsive, and the front facing speakers are excellent. The cameras are pretty good, it is a tablet after all. The very long charging wire also attaches to the device with magnets, so if someone trips over your wire it'll just detach and won't destroy your charging port. I'm not any sort of creator, just a regular user, so I can't say how great it is with 3D and all that stuff Microsoft is advertising. However, I believe they hit it out of the park with this tablet. The price is a bit difficult at $1,000 retail for my configuration, though it is the version behind so the price should drop somewhat, and picking up a used one like I did helps lower the price as well. Overall, I would definitely recommend the Surface Pro 4 to others.

Verified purchase: Yes

High Quality 2-in-1

I've been eyeballing the Surface Pro 4 since it came out, waiting for the price to drop. Mine was an "open box" that included the keyboard/cover for a price that couldn't be beat. This is the Best Windows 10 tablet on the market, IMHO. The build quality is outstanding. The keyboard feels fine. The screen quality is very good. The ports are sufficient for most applications. The battery life, as reported extensively, isn't the greatest. But you must keep in mind that the Intel iCore 5 is a power hog. It delivers good performance at the cost of battery life when pushed into heavy service. Most of us who use desktops that are plugged in all day don't appreciate the power these iCores require to perform as well as they do during multitasking, video playback or using graphics applications. If you can live with a 4-5 hour battery life, the Surface Pro 4 delivers on all other fronts. I'd do it again.

Verified purchase: Yes

Great device, the best Laptop

This has been the best Portable computer I have ever used., Is very thin and ultra portable, super fast and nice looking., I did replace my Hp Core i5pro Envy laptop with this Surface., , The Screen is very accurate and responsiveness is very good., The battery can last about 4hrs., I am possessively Impressed about several functions that I discover every other day, ie : I like the remote screen sharing to the most of the Smart tvs where is really easy do the connection and the streaming is Just gorgeous., , The Keyboard is really comfortable because it is angled about 20 degrees., , On the other side, I dont liked the Mouse pad because is very slow and small, its better to use an external Bluetooth mouse., , The other inconvenient is the USB , bemuse there is only one port of these so you will need to a USB Hub if you want to connect more than one device.

Verified purchase: Yes

Lightweight, Performanced Choice for Daily Work

After a long-time international journey Surface Pro 4 was finally in my hand. The body and accessories were well protected in the box. I've used my Surface Pro 4 for days. It is an excellent equipment for daily work. A proper size with lightweight, wonderful screen, great performance, easy-to-use surface pen and type cover (NOT included in box, bought from local official site) constitute this 2-in-1 combination -- You can use it as a tablet or a laptop., In terms of battery life, I think there is some gap between Macbook Air. Hope next generation of Surface Pro could achieve progress on this. But surface pen really works well with some apps, which is an unique advantage. Besides, compared with Mac OS, Windows 10 OS is more friendly for traditional PC users and may have better compatibility in most conditions.

Verified purchase: Yes